The Gift of Financial Freedom...
Looking for a more meaningful and impactful gift for a family member, friend, or colleague?
Why not give the gift of knowledge and empowerment with a Gift Certificate to our online course "How To Retire Early in 6 Easy Steps."
The fact is young people aren't taught in school about personal finances and how to save and invest.  Yet, this is one of the most important skills in life.
Our course is designed to provide a very solid foundation for financial success.  We teach all the sound financial techniques we used when we were in our 20s and 30s, which helped us retire in our early 40s.
Discounts for Multiple Orders...
If you order more than one Gift Certificate, we offer the following discounted prices: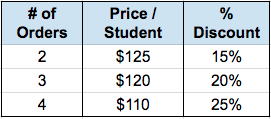 For orders of 5 or more, please see pricing on our Bulk Orders page.
To Order a Gift Certificate...
Simply purchase the course online and then email us at info@retireby45.com with the following information:
Your Name & Email address used to Enroll

Your Gift Recipient's Name & Email address

Any message or comments you'd like to include with the gift

Whether you would like us to email the Gift Certificate directly to the recipient OR Email it to you to deliver
Here's an example of what your Gift Recipient will receive (the code can be entered in at check-out or linked directly)...